1. The Software Architecture
Dlubal Software structure is a main program core with optional add-on modules;
Advantages
Packages can be tailored to your requirements and to the demand of your client
Extensive product range to choose from including high-end technical solutions
Sharing of add-on modules with a network
Network Licences
Advantages (example in graphic shown below)
RFEM (Main program), one for every user
Single licences of add-on modules which can be accessed by all users, one at a time
Result – A saving, a reduced number of licences required of modules that are not used on a regular basis (e.g. Dynamics, Glass, Stability)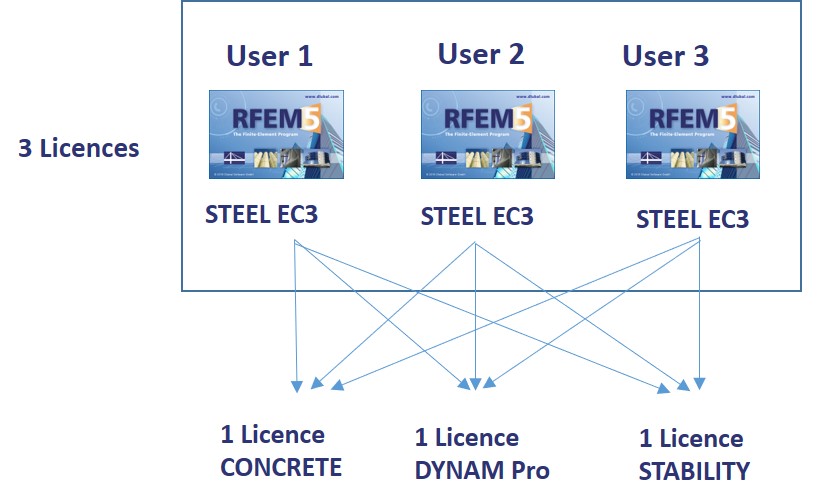 2. Service Contracts
Customer service is a fundamental pillar of the CADS Company. Our interest in customers does not end at the point of sale. We offer any necessary support you need to complete your daily work.
However not all our clients require the same level of support.
For all Dlubal Software programs, there are the following two service contract levels:
Service Contract Basic
Service Contract Pro
Benefits of the Service Contract Basic
Support for both the current and previous program versions
Access to program updates (minor program modifications or developments) for all programs/add-on modules included under the service contract program family (3-5 updates per year accessible from your Dlubal account)
Priority email tech support
Reduced pricing for main program upgrades (major program developments)
Benefits of the Service Contract Pro
Covers all provisions of the Service Contract Basic but also includes the following additional benefits:
Priority phone tech support including guaranteed call back
Priority online support through screen-sharing when needed
Service Contract Prices in UK £ per Year
Flat fee per licence of main program RFEM
No increase with added modules
Additional Licences – maintenance is dramatically cheaper

What are the purchase options for acquiring Dlubal Software?
The following purchase types are available:
Subscription for 12 months
Providing software for a period of 12 months
Automatic extension for one more year
Notification for termination required
Rent for 1, 3, or 6 months
Availability for the selected period of 1, 3, or 6 months
The availability ends automatically
No possibility of cumulative extension of rental periods
A new rental period can be activated at any time
Buy
You get an Unlimited User Licence (lifetime), not a subscription
With an optional service contract, you always have access to the latest program versions. The current licences can be easily extended.
Depending on the version used, licences can be extended by purchasing or renting add-on modules